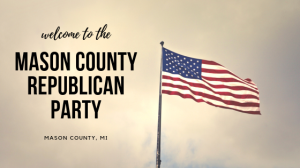 URGENT ANNOUNCEMENT:
The October Mason County Executive Committee Meeting has been rescheduled for Thursday, October 20th at 6:30pm at the Lakeshore Resource Center, 920 E. Tinkham, Ludington.  This will be a short meeting as many will be wanting to attend the candidate forum at WSCC at 7:00pm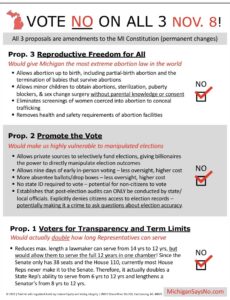 Our Annual Fall Picnic was held September 18th, 1:00pm at Suttons Landing Park, 5610 W. Iris Rd, Ludington. 60 people attended the event.  Speakers included Senator Jon Bumstead, Senator Curt VanderWall, Commissioner Lewis Squires, Right To Life Committee Member, Dee Benett and Rebecca Robinson, Mason County Captain for Kristina Karamo.  The speakers focused on door knocking, getting info out to vote no on all three proposals and to unite and support our Republican candidates at the polls.  Precinct Delegates were reminded of their duties within their precincts and that we need all Precinct Delegates on board to go door knocking, make phone calls, talk to their neighbors and family members as we needed everybody to vote on Nov. 8th.  Precinct Delegates can be provided a walking list or call list and to contact Rebecca Robinson to get that.   Gloria Ann's Catering provided a delicious lunch of pulled pork, corn on the cob and a 3-bean bake.  Ladies on our committee, Verna, Maggie and Cynthia provided homemade desserts.
Sponsored by the Mason County Republican Executive Committee